What is an adverse drug event (ADE)?
An ADE is defined as harm experienced by a patient as a result of exposure to a medication. There are two types of ADEs: Preventable and Non-Preventable.
Preventable ADE: Harm resulting from a medication error that reaches the patient
Non-Preventable ADE (aka Adverse Drug Reaction): Harm caused appropriate use of a medication (e.g. allergic reaction to an antibiotic that a patient has not taken before)
Why we measure the number of adverse drug events:
The goal is to prevent an adverse drug event from happening.
Adverse drug events can lead to longer hospital stays, increased costs, and unnecessary harm.
Measuring our events and comparing ourselves to other hospitals helps us reach our goal of zero events that harm patients.
How we measure:
The number of adverse drug events that caused serious harm per 1,000 patient days.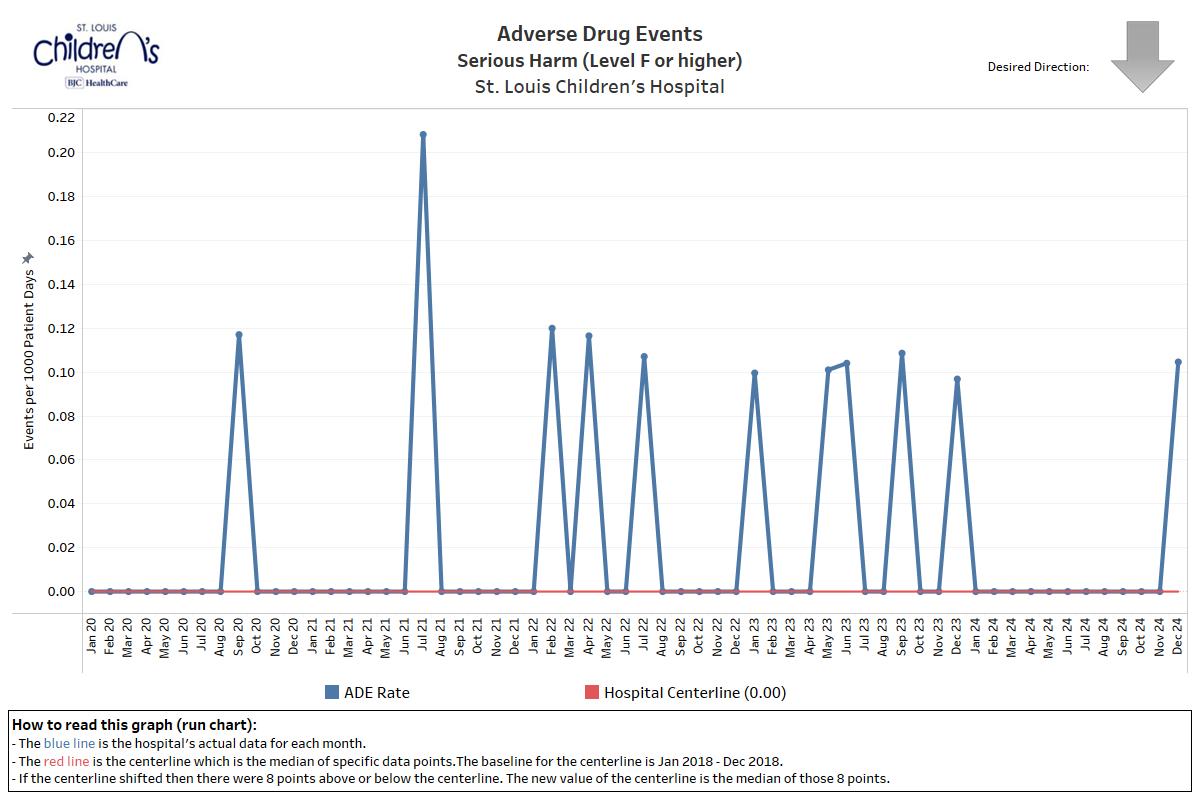 View larger
What we are doing to improve:
Employees are trained on how to report unsafe conditions or adverse drug events. This helps us identify and stop an unsafe situation before a patient is hurt.
If an adverse drug event happens, a team of safety specialists comprised of pharmacists, nurses, and clinicians review the event. The team looks at what went wrong and helps us find ways to prevent it from happening again.
This group of specialists are also involved in local and national local safety groups that collaborate to share safety stories and benchmark safety practices amongst different institutions. This collective learning allows us to take steps to proactively prevent ADEs that have happened at other institutions.
What families can do to help prevent an adverse drug event:
Make sure nurses and doctors caring for your child know about any allergies to medicine or food. Be as detailed as possible when you talk about the type of reaction your child had. Ask the medical team about the difference between anaphylaxis, allergy, and intolerance.
Make a list of all medicines your child takes at home, including the dose and how often he/she takes the medicine. Bring this list with you to doctor's appointments and to the hospital.
Raise any concerns you may have to healthcare staff. If something feels off or you have a question about your child's medical management, our staff are here to help!